National Eggs Benedict Day!
For those of you not in the United States of America, we are a very traditional people. We have our traditions, and we love them. We love them so much we like to spread them around as much as possible. Fact is, most of our holiday traditions are based around food. Valentine's Day? Chocolate and heavy handed treats intended to elicit love and lust. Easter? Let's throw down on a ham, deviled eggs, and the ovum of some unholy rabbit that drops chocolate covered cream filled eggs. The Fourth of July (US Independence day) is all about filling yourself with as much grilled meat as humanly possible and then lighting things on fire. Halloween, the day of the dead, and candy, mainly candy though. Thanksgiving is were we all gather, again, and fill ourselves with way too much food, again, and then sit and watch football (So it's basically like most Sundays from August till January) Falling at the very end of the year is Christmas, a day where we spread the excess from food to gifts to decorations. So it's fitting then, that near the beginning of spring we have some sort of faux-holiday no one has ever heard of called National Egg's Benedict day.
I guess in a way it's fitting, after all it's not a dish that is known for its excessive size, however it will quickly fill even the mightiest stomach. It's a decadent, heavy, delicious little breakfast dish in an open faced egg sandwich disguise. I myself happen to love Eggs Benedict. In fact just by looking at recent breakfasts of mine I happen to be a big fan of poached eggs on some sort of carb/starch/fiber with (most of the time) a hollendaise inspired dish.
Here to our right is a spanish style of it, instead of the normal sauce I used some salsa and it had some veggie patties and jalapenos with a little parm on top. Not terribly carb friendly I know.
Here to the right is a more Greek inspired version. Instead of the traditional sauce it was Greek yogurt with lemon and capers and olive oil. Again on a roll but skip that and just put it on a bed of spinach and bell peppers and garlic with an olive or two just for fun. Really I just like myself some poached eggs. I mean, how can you go wrong with soft boiled eggs that you don't have to deshell and can serve in a multitude of ways and have everyone all impressed with you for being able to go a step past boiling water?
But as for today's meal, the one pictured up top? It's absolutely Atkins friendly. So let's break it down a little shall we? First those rolls you see? They're called Oopsie Rolls! And are absolutely Carb Friendly rolling in at roughly a half carb per roll. At some point I'll put em in their own recipe as the Wife and I have some great dessert ideas for em. But for now you need to know how to make em! SO, here we go, what you'll need for the Oopsie Rolls
3 eggs
3oz Cream Cheese (or Mayo for a less sweet version)
one pinch Cream of Tartar.
Preheat your Oven to 300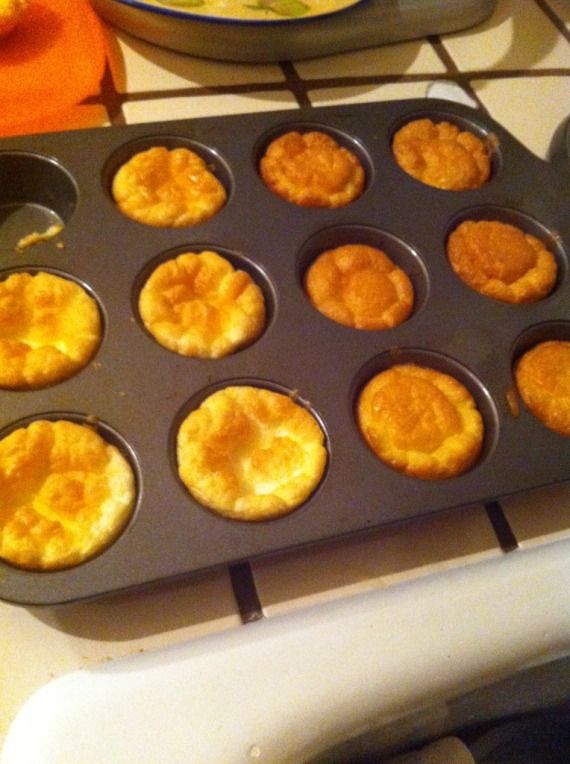 Separate your eggs. With a whisk or a mixer whip the egg whites till they form stiff peaks (basically go at 'em hardcore with the mixer till they're all foamy and stand straight up when you pull em out.) Then add the cream cheese to the bowl with the yolks, and mix them together till they form a creamy yellow substance. Now gently fold the yolks into the whites without beating the whites too badly. Now gently spoon the mixture into a muffin pan and bake for roughly 30 minutes. IMPORTANT!!! Mine cooked in around 22 minutes and others have said 35, please watch for the golden brown deliciousness, it's how you'll know they're ready. This recipe should make six normal sized muffins/rolls within the pan and it comes out at .6 carbs per. Tasty as all get out too. In this picture I actually did one set of Mayo Rolls and one set of Cream Cheese rolls just to see the difference, mayo on left cheese on right. Soon I'll try it with Ricotta.
Ok, so those are in the oven and you've got twenty to thirty minutes so it's time to poach your eggs. As I said I love Poached eggs. Much like I have a certain proclivity for random capitalization in the middle of a sentence, but I digress. When I poach eggs I prefer to use a medium size frying pan that I can get about an inch of water, maybe an inch and a half into. Add a couple table spoons of vinegar to the water, it'll help keep the whites tighter around the yolk. Now get the water up to near boiling, where you see bubbles rising off the bottom of the pan, that's the perfect temperature. Now crack an egg into a cup/bowl if you wish, I find it easier, and use a spatula to get the water in the pan spinning. Pour the egg in, and using the spatula softly push the white to keep it close to the yolk. Typically takes 5-10 minutes to cook to soft boiled/medium boiled depending on your preference. Once it's hit the point you're happy with use a slotted spoon and lift the egg out onto a napkin/paper towel/absorbent thing to let the water run off while you make the amount you need.
Meanwhile you're actually going to be making two other things. Yes I'm keeping you busy as hell right now but believe me it's worth it! Whoever you make this for will have no choice but to love you forever because it'll be so tasty. So, action one of two here, fry bacon. Yep, fry the amount of bacon you need, you'll be having some bacon on top of the rolls in place of ham (or just use ham, I had none tonight and didn't wanna use any of my aged meats on it so we used turkey bacon and it was 5 tasties out of 5.)
Ok, action two here is making the Hollandaise sauce. For this I stole the recipe from Atkins.com so here it is, by the way it's not mine, it's Atkins.com's. ( and by I stole it I mean my lovely wife did and made it tonight and it was oh so tasty)
This recipe calls for clarified butter - meaning the milk solids are removed, which makes the sauce more stable. If you prefer, simply melt the butter and add it in step 2 without straining it.
Line a sieve with a damp paper towel and set over a 2-cup measuring cup. Bring butter to a boil in a small saucepan over medium heat; cook until foam on top falls to the bottom and the butter begins to clear, about 8 minutes. Pour butter through sieve; set aside.
Combine egg yolks and water in the top of a double boiler set over (not simmering in ) water set over medium-low heat; simmer until mixture has tripled in volume, about 3 minutes. Add butter in a slow and steady stream, whisking constantly until sauce thickens. Whist in lemon juice, salt and pepper. Serve immediately.
Me, I like it the way my wife makes it, just a touch of mustard in it and some Paprika and black pepper on top once served.
Ok, now you've got all the components prepared, BUT WAIT! You still need a side dish! Even McDonald's offers a hash brown with their egg concoctions! But we can't have hash browns! Personally, I suggest just wilting some spinach in olive oil with some diced garlic, simple, tasty, and easy to do with the pan used for the bacon. (If you used real bacon, just do it in the bacon grease, still tasty and ties the dish together nicely. Turkey Bacon doesn't greasify like that.)
Now for the final step to this whole mess.ASSEMBLY! What? You think this is easy? PSSSHHHH! Look, there's an art to this... OK, there's really not. Just put down the rolls, then the meat, then the egg... Wait, the eggs got cold didn't they? This is no bueno, it's ok poached eggs are easy to reheat, just put em back in boiling water or hot water for a minute or two and you're set! Ok, back to the task at hand, now that the egg is neatly placed on top, drizzle a little sauce on it, place your side dish, maybe add a splash of sauce all around to look all pretty and fancy and what not. BAM! Amazing food. Now if only I had gotten this posted before or during National Eggs Benedict day (April 16th apparently. I think Kotaku.com had the link about the holliday or something. In truth I just wanted a reason to post about eggs.)
So, your nutrition round up per serving
Oopsie Rolls - .6 net carbs (really it'll depend on the brand of mayo/cream cheese)
The Poached Egg - .77ish if they're large eggs
Turkey Bacon - 0 carbs
Hollendaise Sauce - .2
Spinach side dish thingy!(name pending) - roughly 1 per serving. I did 3 cloves garlic to like 4 cups of spinach between 4 people.
Total per plate! (Traditionally it'd be two rolls each with meat/egg/sauce and some of the side dish) 3.2! Filling, tasty, a little bit of fiber, and room for desserts! Now that's a man meal!